Vision Care Center Biloxi Review
Vision Care Center is an eye care clinic in Biloxi located on the gulf coast of Mississippi. The center is providing patients with professional vision care, service, and rich product selection at an affordable cost. All patients are examined with the most up-to-date equipment and are usually able to receive their glasses, frames or lenses on the same day. The clinic strives to serve its patients beyond their expectations.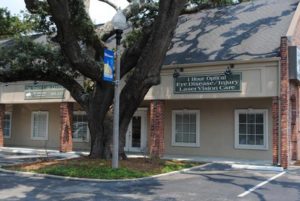 Services
Vision Care Center in Biloxi provides the following services to residents of Mississippi:
Contact Lenses – the clinic provides comprehensive cornea and contact lens care. The doctors evaluate your eyes and determine which type of contact lens will suit you most. They have a rich selection of major brands of soft and rigid contact lenses, as wells as custom-designed contact lenses for special needs. Specialized contact lenses include bifocal contact lenses, monovision contact lenses, orthokeratology (corneal molding), pediatric contact lenses, astigmatism contact lenses, keratoconus treatment, prosthetic contact lenses, etc.;
Pediatric Vision Care – Vision Care Center in Biloxi has all the modern capabilities for successfully solving various vision problems in children of any age. Unique specialized equipment makes it possible to carry out complex vision diagnostics literally from the first days of a child's life, to conduct gentle and at the same time effective therapeutic treatment using advanced hardware techniques. The staff of the clinic includes experienced pediatric ophthalmologists, which guarantees a highly professional, personalized approach to each young patient;
Optical Services – the clinic provides high-quality frames and lenses for all ages, infants to adults. Here you can purchase spectacles for general use or specialty lenses for sports, hobbies, or occupational use. They offer a rich selection of scratch-resistant and anti-reflective coatings, lens designs, and tints.
Ocular Trauma – The clinic's specialists handle most eye injuries, such as retinal trauma, retinal hemorrhages, embedded foreign bodies, and others.
The primary instrument of an ophthalmologist is a biomicroscope, which allows to carefully examine the injury;
Ocular Diseases – the clinic provides diagnosis, treatment and management of diseases that affect the human eye and visual system. Some examples include dry eye syndrome, keratoconus, diabetic retinopathy, cataract, macular degeneration, vision therapy;
Vision Therapy – the clinic provides complete diagnostic and therapeutic care for children and adults with eye tracking, eye teaming (strabismus or amblyopia), eye focusing (visual acuity), computer-related vision problems, sports vision, acquired brain-injury-related vision problems, learning-related vision problems, visual information processing.
Doctors
Dr. Rains is an optometrist and ophthalmologist of Vision Care Center. He graduated from the school of optometry in Memphis, TN. During his residency in Fort Walton Beach and Keesler Air Force Base, he was trained in general optometry and ophthalmology. Dr. Rains received his Doctorate degree in 1989. He is licensed to practice in Mississippi by the State Board of Optometry.
Dr. Rains has extensive experience in treating glaucoma, eye diseases and injuries to the eye. He is one of the best optometrists in the state certified in this area.
Dr. Rains is a member of the First Presbyterian Church in Ocean Springs, Mississippi Optometric Association, Chamber of Commerce, and the American Optometric Association.
Contact Information
Location: 2318 Pass Road, Colonial Park, Suite 1 (Across from Taco Bell), Biloxi, MS 39531
Phone: 228-388-1115
Fax: 228-388-1511
Business Hours: Monday-Friday 9 a.m.-5:30 p.m.
Category: Clinic Review